Social Commerce Today and How it is Evolving
'Social Commerce' refers to selling products and services through social media channels — not by redirecting users to an online store but by offering them the option to purchase directly from their social media platform.
Moreover, the current iteration of 'social commerce trends' is led by the walled gardens of the world is focused on creating a shopping experience on social media platforms – This is 'Social Commerce 1.0.'
In addition, TikTok and Instagram have rolled out their 'Shopping' product in select regions, bringing Livestream shopping to consumers on separate apps. So, is this going to be the future of commerce?
Let us take a look at the image below:
Fig: Examples of Instagram Shopping & Facebook Shops
What are the Social Commerce Challenges?
Although short videos on social media drive up brand engagement, they rarely convert into actual sales. Also, GenZ and Millennial customers can't get enough of short-form videos, and the rapid rise of Tik Tok and Instagram Reels indicates this.
This demographic plays a crucial role in setting trends within the digital ecosystem of products today. Certainly, there are challenges some of which we have discussed below:
1. Lack of Core Objective
Social media's core purpose is to enable community-driven interactions for entertainment and connectivity.
As a result, most live streams on walled gardens such as IG, TikTok, and Amazon Live result in <1000 viewers and even smaller conversions. The introduction of a shopping element is a jarring break from its core identity, seemingly coming across as a forced platform addition.
2. The Distraction is Immense
Social media platforms present an incredibly dense world of UGC (user-generated content) that introduces a high degree of distractions, a strict no-no for a new shopping format that requires a focused experience. Consumers know that entertainment is just a swipe away, posing a dropout risk.
3. Lacks of High Influence
Even today, social media only influences about 3% of eCommerce sales, with the rest of the conversions happening on websites. Most consumers don't consider a social media platform their next significant shopping experience.
4. First-party Customer Data
Brands get second-party data that is often hashed and inaccurate. Comparatively, first-party data becomes crucial for creating a personalized, targeted customer experience in the cookieless future.
5. Poor Customer Experience Quality
There is minimal customization on offer for brands, and they have to purport to create a livestreaming eCommerce experience driven by social media guidelines that may or may not result in a great customer experience.
6. Irrelevant traffic on Social Media
The overall conversions of social commerce market remain low because the social media traffic isn't actively looking to shop and is generally lured in by promotions that rarely convert into a sale.
7. Platform-Specific Content Sharing
The content created and posted on social media platforms is restricted to the walled gardens and can't be shared on other websites (including brand properties).
Undoubtedly, Gen Z is already defining the next decade of customer engagement with their current preferences leaning towards live, short-form video content. Brands are not prepared to adequately leverage video as a commerce and engagement medium on their brand properties. But the arrival of Social Commerce Platform 2.0 is all set to change this up.
The Role of Live Video in Social eCommerce
Video's auditory and visual elements make it a compelling content format from an engagement perspective. The Covid-19 pandemic saw a significant spike in video consumption among consumers, with 23% of US consumers adding at least one more paid video streaming service to their subscriptions since its outbreak. This is a trend that is here to stay.
Cisco had predicted that 82% of all created content would be Video, but this figure was underestimated. According to Salesforce research, Video is the star channel of 2021, emerging in front as the channel with the most significant value spike.
At the same time, live commerce is gaining massive traction as an attractive and engaging medium of trade that enables consumers to be a part of a brand experience. Moreover, Live Commerce effectively integrates content and commerce to bridge the gaps between discovery, consideration, and conversion stages. During Covid-19, Live Commerce grew by 76% globally.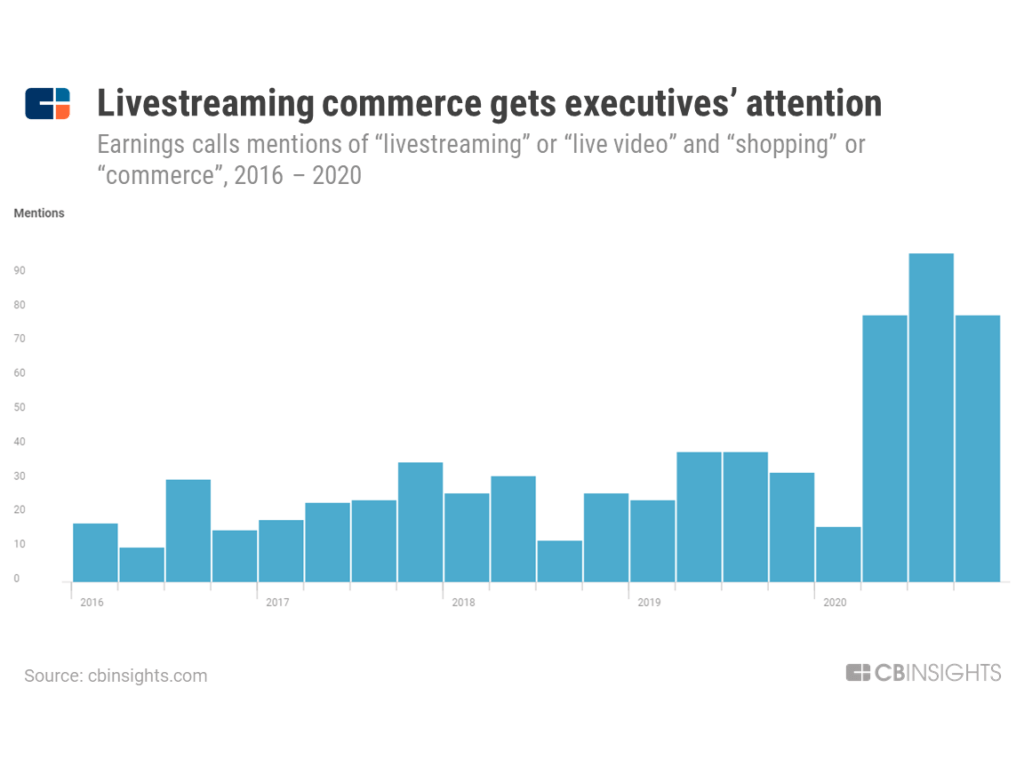 The image below shows that by 2023, China's Live Commerce market size will cross the $600 billion mark, powering more than 20% of China's E-Commerce market. However, it isn't just China anymore. Even in the US, Live Commerce is expected to cross the $35 billion threshold and power between 3-5% of all eCommerce sales.
Brands are taking actionable steps to include live streaming into their marketing strategy, as the statistic above clearly displays the rising importance of connecting with consumers in real-time with an interactive content format.
What is Social Commerce 2.0?
In Social Commerce 1.0, video content for marketing was restricted to social media platforms. It took away the seller's website traffic and barely translated into conversions. Social Commerce 2.0 tackles these problems effectively by giving the power back to brands and eliminating middlemen that control traffic, customer data, and engagement.
How does Social Commerce 2.0 Impacts the Digital Experience?
Social Commerce 2.0 is all about bringing together a strong band of consumers together to take part in a new-age digital shopping experience that is highly immersive, interactive, and entertaining at the same time.

With Live Commerce enabled on a brand's website, customers and prospects from all over the open web can come together over a highly informative, visual, and real-time experience that enables better product research and discovery, and effectively speeds up the conversion process with a seamlessly integrated purchase process.
Benefits of Social Commerce You Must Know
1. Power of Video
Transforming eCommerce by selling on your site with immersive Video and live content
2. Influencer marketing
Community-driven, humanized shopping experience with brand associates/influencers
3. Visual Shopping Experience
Driving a deeper, more emotional brand connection with a superior, visual shopping experience
4. First-Party Data
Ownership of first-party data for hyper-personalized experiences
5. Decentralized Framework powered by web 3.0
The decentralized live shopping experience on web3.0 that is open to the world
6. Customization and Consistency
Fully customizable, native-looking live shopping experience to maintain consistency and brand recall
Now we will see one of the best social commerce brands examples – TaoBao Live:
How did TaoBao use Social Commerce 2.0?
Taobao Live, the famous Chinese eCommerce platform, has pioneered this social commerce model into its strategy with roaring success. By streaming live and shoppable videos on their site, Taobao has been delivering superior shopping experiences that are humanized and highly effective.
From 2019 to 2020, Taobao Live witnessed a staggering 100% year-on-year growth among daily active users. In 2020, users who placed more than ten monthly orders increased by 150%! Today, Taobao Live boasts a market share of 35% and has firmly established itself as a global live commerce giant. In 2021, the brand powered sales between 76 – 80 billion US$!

How Firework Can Help Your Business?
At Firework, we are powering the omnichannel digital transformation journey for brands with a powerful Live Commerce platform:
1. Customized web stories
Create customized, mobile-optimized shoppable videos and swipeable web stories with the Firework Studio tool
2. Measure your content performance
Track the performance of your shoppable content and live streams with advanced analytics
3. Leverage video ads monetization
Revolutionize digital publishing with effective website monetization powered by vertical video ads
4. Boost engagement
Host high-quality live streams with real-time customer interaction
5. Expert GTM strategy & consultation
Get expert consultation to transform your brand experience with Live Commerce
Schedule a consultation with Firework to discover how you can step into the future of customer engagement through live commerce.
Summary
The pandemic has redefined consumer preferences worldwide, and the trend of shopping remotely from the comfort of one's home is here to stay. However, the future is looking increasingly omnichannel, where the lines between physical and digital are blurring.
Customers expect the same level of service and personalization from offline stores and the digital shopping experience. At the same time, Video is a game-changer that's permanently altering customer behavior and engagement trends.
Brands need to enter the future of commerce with Social Commerce 2.0 and focus on building strong communities that thrive on better engagement and immersive, interactive experiences that combine content and commerce seamlessly.