Over the last decade, consumer preferences have undergone a paradigm shift due to the growing share of millennials and the GenZ population.
A significant portion of the consumption curve has tilted toward online channels – be it for e-commerce (grocery, fashion, food, etc.), entertainment (OTT and digital media replacing traditional media such as television and print), or communications (social media platforms).
These ominous trends have accelerated during the post-COVID era and look like they are here to stay for good.
When it comes to the current state of e-commerce, brands are increasingly finding it difficult to attract and retain customers as multiple competitors are wooing the same customers on a platform. As a result, the only aspect building traction and sales is product pricing.
Further, social media platforms such as Instagram, Facebook, etc., have transitioned into social commerce hubs. They have successfully diverted the customer base from e-commerce portals to their platforms.
Therefore, brands across the globe are grappling with the problem of creating differentiation for themselves on e-commerce portals and social media platforms while trying to attract and retain their customers.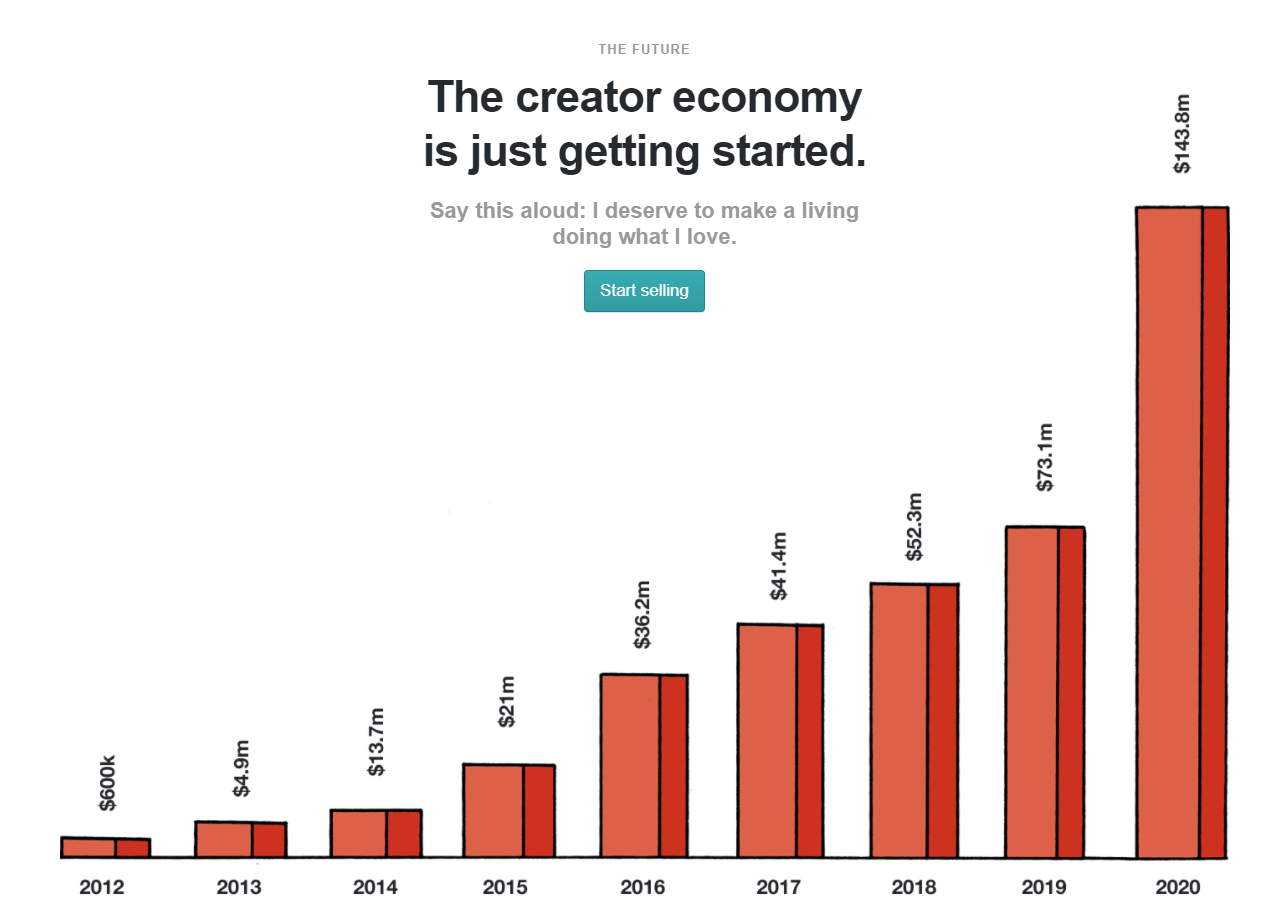 One of the most prominent approaches that brands are now resorting to very prominently is leveraging the power of social media influencers.
It's an exciting space shaping up to take the world of e-commerce by storm. In everyday terminology, influencers are popular entities on social media, powering brand growth for many companies, legacy, and new-age, via the influence they hold over their social media followers. These influencers are a part of an ecosystem now popularly known as the "creator economy."
In this article, we will find out how the creator economy is shaping up and how brands can overcome the challenges from existing influencer marketing campaigns by leveraging the power of Live Commerce.
What is the Creator Economy?
Creators are a growing breed of individuals or teams actively engaged in leveraging social media for creating and curating engaging content. Content dissemination could happen in blogs, pictures, short videos, audio, etc., across the gamut of social media platforms – Youtube, Facebook, Twitter, Instagram, and TikTok, among others.
Over time, creators have amassed a massive following among people who align with their content genres. They have been successful in building a community of like-minded people. As a result, these creators have turned into 'influencers,' as they have the clout to introduce or alter the consumption preferences of their followers altogether. 
Once the influencers scale, multiple revenue channels open up for them – brand growth collaborations, advertising revenue share, subscription of services, affiliate marketing, etc. It's no surprise that the global creator economy is growing by leaps and bounds, towering at over USD 100 billion as per the latest estimates.

To give you a sense, here are some popular social media influencers today:
Whinderssonnunes – a Brazilian comedian and Youtuber, has over 58 million followers on Instagram.
Huda Kattan – an Iraqi-American makeup artist, blogger, and founder of the Huda Beauty cosmetics brand, has over 50 million followers on Instagram.
Lele Pons – Creates comedy content and collaborates actively with brands, has over 47 million followers on Instagram.
Nusret – A cooking influencer famous for his 'salt bae' videos and memes, has over 44 million followers on Instagram.
The influencers help brands trigger conversions, create a loyal base of customers, and deliver highly impactful brand campaigns with widespread reach.
The power of influencers is such that, as per a study, around 41% of customers discover new products recommended by influencers weekly, and 24% get influenced daily.
With the help of influencers, brands can create a reach that can rival traditional media advertising. 
For example, to celebrate the launch of the luxury brand Dior's Forever Foundation – the company partnered with 67 social media influencers, each symbolizing its collection of 67 foundation shades. Dior selected the influencers based on various parameters (level of engagement, location, beauty-focused audience, among others). The influencers were tasked with creating one post each for 67 continuous days. At the end of the campaign, these influencers had a total audience reach of over 2.7 million, made around 1.9 million impressions, and thus, reached over half a million engagements!
While over 50 million content creators fuel the creator economy, they are categorized under different segments – depending on the strength of their follower base.
Nano – Less than 10,000 followers – reach limited to their community of friends and family but can result in high conversions (

most content creators globally fall under this category)

Micro – 10,000 to 100,000 followers – curated audience aligned to specific interests so more likely to generate qualified leads
Macro – 100,000 to 1,000,000 followers – targeted audience with good engagement levels
Mega / Top – More than 1,000,000 followers – mass appeal but very less engaged audience
Leaving aside the deep-pocketed brands, most engage with micro and macro categories influencers and plan their influencer marketing campaigns to maximize their ROI.
What's fueling this demand for Influencers?
Social media influencers have garnered widespread acceptance from their audience over a while. They can connect better with their audience than traditional media channels, owing to their similar interests and preferences. 
Millennials and GenZ consumers spend most of their waking hours online consuming short-form video content and live streams. They start following many such influencers during their browsing routine for good content.

These new-age consumers are shunning traditional methods and instead seek recommendations on products and services from these influencers. They experience a feeling of trust as the influencer commands a subject matter expertise while the community presses forward with the buying decision.
As per recent research, user-created content has gained substantial eyeballs and now accounts for close to 40% of all media hours.
Further, another study highlights that a whopping 92% of GenZ adults base their purchasing decision on the recommendations of a social media influencer.
Therefore, brands have realized that to penetrate these digital-savvy consumer segments, they must move beyond traditional media (TV, print, radio, etc.) campaigns and shift their focus towards user-created content. Thus, collaboration with the influencers becomes more critical to stand out among the competition in the market.
Current challenges with Influencer Marketing
Despite the boom in the creator economy, specific structural issues limit the vast potential of influencers and brands collaborating in the best possible manner.
Social media dependency: Influencers

are heavily reliant on the social media platform, which has given them this profound glory. Their reach and subsequent success function the complex algorithms these tech giants run in the background.
Brands, therefore, cannot measure the true ROI of an influencer in terms of their ability to lead actual conversions, as these platforms are walled gardens that provide limited analytical insights into an influencer's prowess. 
Rising costs

– An

influencer

today, depending on their popularity, can command remuneration close to any leading celebrity. Brands have to shell out anywhere between USD 500 to USD 10,000 for nano to macro-grade

influencers

per post. This heavily diminishes the ROI that brands intend to achieve from their social media campaigns.
With the rising costs of influencers, it becomes unaffordable for brands – especially smaller brands with low marketing budgets. Thus the potential of influencer marketing remains underutilized. Brands usually need to adopt a multiple influencer strategy to achieve some scale. Therefore, these brands are compelled to directly get customers on their e-commerce websites.
Deciding on the right platform and influencer

– More often than not, the herd mentality guides brands to choose the platform and the

influencer

. Brands usually rely on an

influencer's

popularity to run a campaign and have little or no way to gauge whether their followers on the platform are the brand's target segments. 
A study states that only 48% of marketers see a return on investment using social media, failing to engage with the platforms and measure the impact correctly.
Enter Social Commerce 2.0
Social Commerce refers to selling products or services directly through the shopping and checkout features provided on social media platforms like TikTok, Instagram, etc. The live commerce capability on these platforms has made shopping an immersive experience. 
However, in its current form, social commerce is also the chief reason for the limited impact of influencer marketing today.
Social Commerce 2.0 promises to rectify the many inherent challenges that plagued its earlier avatar.
Redirecting customers back to their own website/app
Brands are increasingly breaking the shackles of an underwhelming shopping experience on social media to drive traffic back to their websites and mobile apps. To enable this transition, brands are partnering with influencers to run Livestream shopping campaigns directly on their website (in addition to the social media platform, if required).
Influencers actively promote upcoming Livestream links for their followers to visit the brand's website and shop from there itself.
Community-based experiential shopping through live commerce
Inspired by social media, brands can create an 'experiential shopping' experience with live commerce. Here consumers get to interact with the seller/brand to recreate a similar in-store experience that is live and authentic. 
The chat message feature also enables the consumers to interact with other shoppers and understand their preferences and purchasing triggers. Thus, live commerce is superior to traditional e-commerce due to the community-based shopping experience.

Assess the influencer ROI effectively.
Brands can gauge the true ROI of partnering with influencers for social commerce on their websites. They can better attribute their marketing dollars to actual leads and conversions generated during the influencer-marketing campaign. 
By implementing technology that enables live commerce on their website, brands can access analytics tools that provide in-depth insight into the watch time, CTR (Clickthrough rates), add to cart rate, final conversions, a drop-off point, and seller communication, among others. These metrics help the brands to understand the ROI of their campaign accurately.
The emergence of KOCs and KOLs
The success of China's live commerce model has given rise to a sub-segmentation of influencers into KOCs (Key Opinion Consumers) and KOLs (Key Opinion Leaders). KOLs are the influencers who need not be significant influencers but have a strong connection with their follower base. Brands collaborate with KOLs for promotional content as they feel they can directly influence their followers and bring value to the brand. 
KOCs are regular consumers who publish independent content with unbiased and genuine product feedback and generally are product users with an honest, organic take on the brand/products. 
Brand marketers now get more options regarding the type of influencers they want to use for their brand growth.
Invite influencers on your platforms for a native experience
With social commerce 2.0, brands can now create a space for influencers on their own website/app such that it replicates the native experience for their fan base/audience (similar to their social media handles). 
The influencer can create video-led content such as swipeable short stories with a shoppable feature. Influencers can also curate a selection of goods they would otherwise feature on their social media profile and showcase and sell them directly from the brand's website via live commerce.
In China, the world's foremost live commerce market, brands use nano influencers and their employees to regularly do Livestream shopping campaigns, thus adding more tangible value to the customers' lives. 
The success of the China model suggests that brands can create more powerful campaigns using the nano and micro-influencers compared to typical social media campaigns.
Summary
With Livestream shopping platforms like Firework, brands and retailers can create digital shopfronts that primarily feature prominent influencers and help them bring their captive audience to the brand's website/app. With the option of enabling video commerce through shoppable videos, brands can trigger conversions right on their platform.
Firework also provides brands with deep analytical tools to embrace influencer marketing in an actionable way. As a result, brands can create an immersive and authentic Livestream shopping experience, resulting in superior customer data quality, better conversions, and higher sales.