We don't often think about how the world economy has changed over the centuries. What started a century ago as an industrial economy revolved around people (primarily men) earning by showcasing their physical prowess.
By the 1950s came the consumer economy, where services were marketed on traditional media, encouraging consumers to make purchases.
Cut to the current decade; the creator economy is the next 'in-thing.' People earn by influencing communities that show interest in their skills, interests, and hobbies. COVID-19 fueled the creator economy growth, with consumers spending nearly 548 billion hours livestreaming on social media apps using various content creation tools in the past year.
However, what is the creator economy, and how is livestreaming fueling this phenomenon? Let's find out!
What Is The Creator Economy?
Creators are the new breed of people or groups actively using social media to produce and curate engaging content. In the past years, this breed has successfully amassed an enormous following of people that align with their content genres. As a result, the industry is set to become a $16.4 billion industry by the end of 2022!
The best part about the creator economy is the two-way benefits for brands and creators. For creators, it is the perfect emancipation from a nine-to-five job to earn multiple revenue streams via ad revenue, paid subscriptions, brand sponsorships and product sales.
For brands, leveraging the relationship between creators and their audience is worth billions. Let us take a look at Meta, which recently announced the line-up for its second Creator Week event. It is likely to help creators better use social media platforms like Facebook and Instagram to increase their personal brand while helping them further monetize their content.
What's Fueling This Demand For Creators And Influencers?
Consumers probably spend more time on social media than any other traditional channels. In doing so, we can see a tidal shift in how they perceive and absorb content.
Instead of traditional means, modern consumers turn to the vast majority of online content creators and influencers for suggestions on products and services. They trust the influencer as they have expertise on the subject matter expertise the community moves to make purchase decisions.
User-generated content has played a major part in consumers trusting creators. Studies show that 39% of media hours account for user-generated content. In addition, creators can connect with audiences by showcasing their choices, suggestions, and experiences.
Hence, the demand for creators and influencers is here to stay.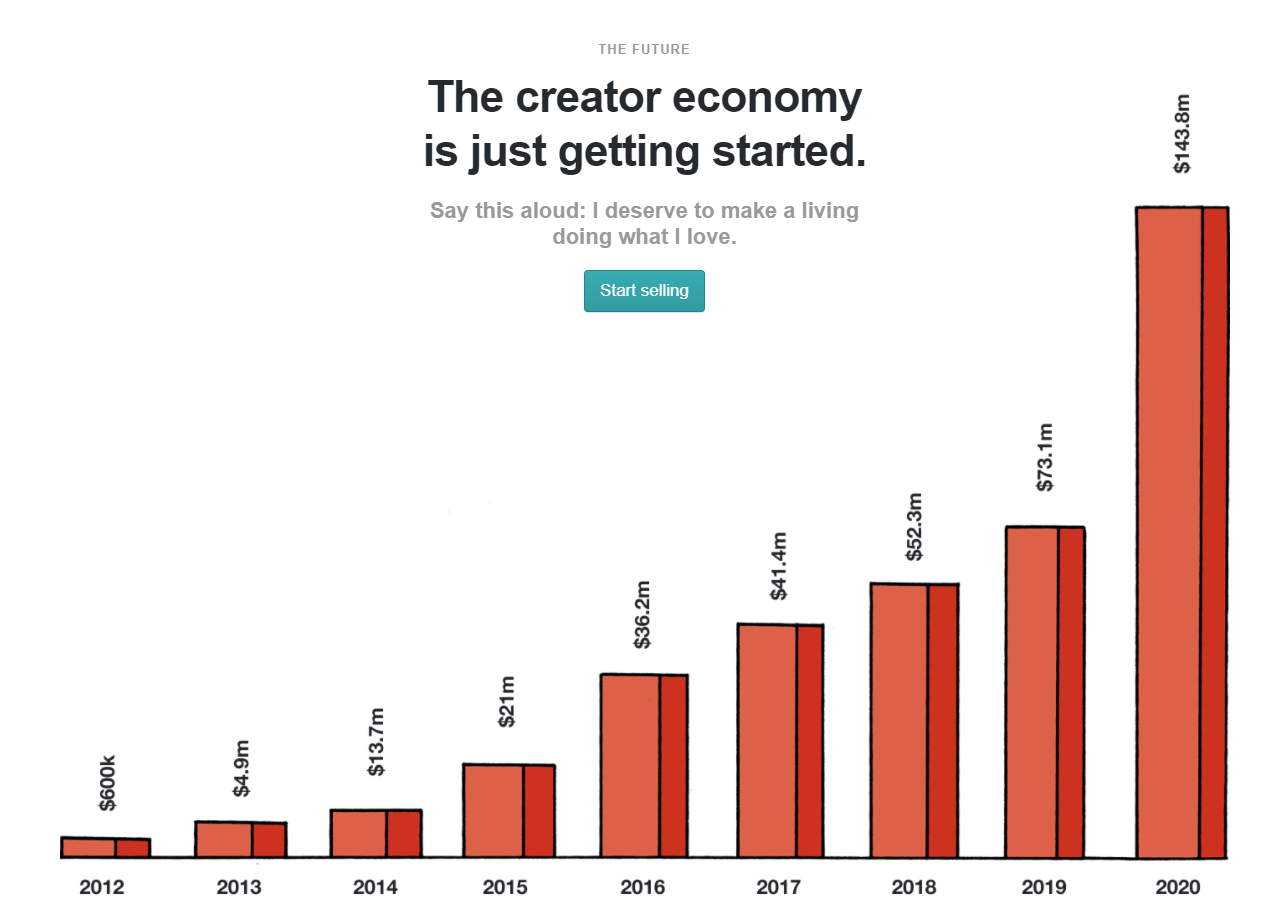 Source: The growth of creator economy in the past decade
Different Segments Of Content Creators
There are 50 million content creators churning creative content across every possible genre you can think of. Thus, to understand the creators of the creator economy, we can divide them into the following segments based on their follower base:
1. Nano (1000 – 10,000 followers)
Ideal for small or mid-sized businesses with limited budgets. However, they are an excellent choice for niche markets. Most independent creators globally fall under this category.
2. Micro (10,000 – 100,000 followers)
They help create more focused leads as their interests are aligned with a specific curated audience across selected digital platforms.
3. Macro (100,000 – 1,000,000 followers)
When creating awareness is on your list, macro creators can do the trick. They can also generate high levels of engagement.
4. Mega (More than 1,000,000 followers)
If you have a large budget and want to create mass appeal, mega influencers can show you the way around.

Source: Creators Economy
Leaving aside the deep-pocketed brands, most engage with micro and macro content creators and plan their influencer marketing campaigns to maximize their ROI.
Get Acquainted With Some Major Creators
You can have a look at the following global creators who are showcasing the power of the creator economy –
1. Whinderssonnunes
The Brazillian comedian and YouTuber is one of the successful creators with for 58.8 million followers on Instagram. His content varies from songs, parodies, reviews and even vlogs.
2. Huda Kattan
An Iraqi-American influencer, she is the founder of the world-famous makeup brand Huda Beauty. Her Instagram followers amount to a total of 51.1 million.
3. Lele Pons
The Venezuelan-American internet personality creates comedic content and several brand partnerships for her 49.6 million followers on Instagram.
4. Nusret
Famously nicknamed 'salt-bae', he is a renowned food entertainer and chef. His Instagram following amounts to 48.1 million.
Creators like them have helped establish the content-first marketing approach, with digital channels becoming essential monetization tool for the creator economy. However, one unique path most content creators are now looking for is livestreaming which in itself has many content creation tools to boost the creator economy to achieve multiple revenue streams.
Current Challenges In The Creator Economy
Before we discover the scope of livestreaming, we must first understand the general and structural challenges that creators and brands face.
Let's first look at two main challenges that creators face to sustain their place with dynamically changing creator economy trends:
1. Growing an Audience
There is nothing like organic growth in a creator's world. However, establishing the connection with one's target audience can be time-consuming and often a point that pulls back budding creators. As a result, 17.8% of creators consider investing in paid social media and search engine rankings.
2. Time Management
Creating content is not a walk in the park. Multiple factors are involved in content creation, and 21.6% of creators struggle with time management. Many even consider investing in freelance hiring to outsource some of their tasks.
The brand side of the creator economy poses its set of challenges too. Most of these are structural considerations:
1. Social Media Dependency
Most content creators use social media as the primary channel for connecting with their audiences. The sophisticated algorithms these tech behemoths execute in the background control their reach and success.
Because these platforms are walled gardens and only offer a limited amount of analytical data about an influencer's abilities, brands cannot determine an influencer's genuine ROI in terms of their capacity to drive actual conversions.
2. Rising Costs
Brands spend at least $100,000 annually on creator marketing. Influencers are becoming increasingly expensive for brands, especially smaller ones with limited marketing expenditures.
As a result, influencer marketing's potential is still not fully realized. To gain scale, brands typically need to use a multi-influencer strategy. These companies must, therefore, immediately attract customers to their e-commerce websites.
3. Deciding On The Right Platform And Creators
When Proactiv announced Kendall Jenner as the new face of their brand, netizens knew she was the wrong choice because she had never used their products. It shows that factors like authenticity (among others) are essential when choosing an influencer for the brand.
Brands must also consider other factors like the right platform for the right target audience, timings, etc.
How Vital Is The Livestream Shopping Trend For A Creator Economy
Based on trust and connectivity, the gen-z creator economy has solidified due to livestream shopping to a large extent. Here's how livestream shopping is fueling this economy:
1. An Instant Connection Between the Audience and the Creator
Livestreaming shopping is almost like being on a video call with a brand. Adding a niche content creator to the mix elevates the connection that brands can establish with their audiences.
For example, when American Girl did a livestream for the announcement of their "Girl of the Year", they roped in gold medalist figure skater Tara Lipinsky. The results skyrocketed with 250K live and replay viewers and a 25% engagement rate.
With livestream shopping, consumers can ask questions to the content creators and enjoy the community feeling while shopping.
2. Leveraging the Trust Factor
When people follow a creator, they do so because they relate to them or trust their opinions.
For example, 37% of consumers trust influencers over brands. Brands can leverage this trust to market their products.
Similarly, creators who collaborate with brands tap into their target audiences aiding content creation thereby gaining more followers and engagement. It is a two-way street.
3. Boosting Conversions with the Creator's Motivation
Since livestreaming provides the scope of instant purchasing, the creator's conviction in marketing the product plays an important role. A consumer would more likely be convinced by a content creator's opinion of a product than a brand representative.
In addition, brands can add clickable links to support creators, while such livestreams that boost the consumer to take action promptly rather than waiting around and giving much thought.
4. Adding Entertainment to Sales
Livestreams can harness the power of the creator's influence and entertainment. Consumers who might not intend to buy a product may join such livestream sessions for recreation and leisure.
Not only do brands have an opportunity to establish the first point of contact with such audiences, but can also convert them eventually by creating awareness of their products through their favorite creator.
5. Creating Consumer Loyalty
It can take time for brands to build consumer loyalty. However, when a creator is involved in a livestream, they bring their loyal set of viewers with them.
Hence, the brands get access to a whole new potential consumer base, likely to convert based on their adoration of the creator.
Social Commerce 2.0 And The Challenges It Promises To Rectify
As livestream makes its place in creator economy trends, social commerce and its role also come into play. Social commerce primarily involves selling products or services on social media platforms with direct shopping and checkout features.
While social commerce is ideal for live commerce, it has some drawbacks. Let's know what these drawbacks are and how social commerce 2.0 promises to rectify them:
1. Redirecting Customers Back to their Own Website/App
To entice customers back to their websites and mobile apps, brands are increasingly defying the constraints placed on them by a lackluster purchasing experience on social media.
Influencers are working with brands to launch livestream purchasing campaigns directly on their websites to facilitate this transition (in addition to the social media platform if required).
As the saying goes, if you build it, they will come, and the same goes for livestreaming. When Aldo hosted its inaugural live shopping event, it was co-hosted by celeb stylist Mimi Cuttrell and TikToker Nate Wyatt.
Source: Aldo's promotion for the livestream event
They would share fashion tips and highlight the brand's products. All the while, viewers could browse the brand's spring 2021 collection through the stream.
The result: 17,000 page views in five days, an average viewing time of over 12 minutes and an engagement rate of 308%.
2. Community-based Experiential Shopping Through Live Commerce
Live commerce allows brands to create "experiential shopping" experiences inspired by social media. Here, customers can engage with the brand or vendor to simulate a realistic, live in-store experience.
Customers can converse with other customers through the chat message feature and learn about their preferences and motivators for making purchases. Thus, because of the community-based shopping experience, live commerce outperforms traditional e-commerce.
3. Assess the Influencer ROI Effectively
67% of respondents in an influencer marketing survey stated that they gauge influencer ROI from campaigns.
However, brands can obtain analytics tools that offer in-depth information about the watch time, CTR (Clickthrough rates), add-to-cart rate, final conversions, a drop-off point, and seller communication, among other things, by adopting technology that supports live commerce on their website.
These measurements assist brands in precisely understanding the ROI of their marketing initiatives.
4. The Emergence of KOCs and KOLs
Due to the popularity of China's live commerce model, influencers have been divided into KOCs (Key Opinion Consumers) and KOLs (Key Opinion Leaders).
KOLs are content creation agents who don't necessarily need a large following but still have a close relationship with their followers. Because KOLs can directly impact their followers and add value to the brand, brands frequently work with them to create promotional content.
Regular customers, known as KOCs, write independent content having established a personal brand for unbiased and sincere product reviews and are typically product users with an authentic, natural opinion of the brand or products.
5. Invite Influencers on Your Platforms for a Native Experience
With the help of social commerce 2.0, marketers can now include influencers on their website or app, replicating the native experience for their audience or fan base (similar to their social media handles). Creators can provide primarily video-based content, such as swipeable short stories with a shoppable element.
Additionally, using live commerce, creators can promote and sell a selection of products that they would typically feature on their social media profiles directly from the brand's website.
In China, the largest live commerce market in the world, marketers often conduct livestream purchasing campaigns using nano influencers and their staff, giving customers' lives more concrete benefits.
Thus, the creator commerce economy is the present and future of retail and an excellent tool for a brands' growth if they find the right source for executing marketing campaigns like
Wrap Up
The creator economy powers the world of eCommerce. Brands need to follow these creator economy trends to absorb the influencers' sway and use them to create a better and faster connection with their audiences.
With the help of livestream shopping platforms like , brands get the chance to collaborate with relevant creators and boost their business growth with high engagement and conversions.