Livestreaming is a familiar term, but then what is livestream shopping? Imagine your customer going on your website and seeing their favorite celebrity on a Livestream wearing a slick black skirt they would want to own.
And with just a click, they could buy that skirt as the Livestream continues. Well, in the world of shopping, this is already happening. Welcome to livestream shopping.
With the launch of Alibaba's Taobao Live in May 2016, a fresh chapter in sales opened up. By combining an online Livestream broadcast with an online store, the Chinese retail e-commerce giant enabled viewers to watch, engage, and more importantly, shop simultaneously. 
Livestream shopping is the perfect amalgamation of watching a product or service demonstration video and completing the gratifying experience by purchasing the same in real-time. Let's learn more about Live Commerce and what it can do for your business.
What is Livestream Shopping?
Well, to put it simply, it is a hybrid of real-time video streaming, variety entertainment, and group chat. The modus operandi for livestream commerce is similar to a home shopping network (HSN), QVC, or ShopHQ. Typically, a host, either an influencer or a celebrity, shows up a product on the livestream, and viewers can buy the featured product during the broadcast itself.
This has proven to be quite popular among consumers as there is a high degree of interaction between the brand and the consumer. Brands can quickly get an idea of how consumers see their products and receive feedback and suggestions, while consumers can easily connect with a brand and ask questions about the product.
The shared sense of community is potent and unique, creating a highly engaging live online shopping experience.
How Huge is the size of the Livestream Shopping Market?
With more and more consumers looking at video formats to consume content, the livestream shopping market size is only likely to grow. Remember, the average time a consumer looks at marketing material is only 3% and getting their attention is essential for any business to grow.
And with younger customers being attracted to the charisma of livestreaming, brands need to develop efficient marketing strategies.
The livestream shopping market in the US is estimated to be worth $35 billion by 2024. And if you think it is just an estimation, keep in mind that the Chinese livestream selling market grew from $3 billion to $171 billion in just three years. In fact, most marketers are already convinced, with 80% seeing livestream commerce as an integral part of sharing products with consumers.
So let's delve further into the elements of livestreaming.
What are the Elements of Livestream Shopping?
Here are some critical elements of an excellent live shopping online video:
1. Platform
The possibilities of growth with livestreaming are only likely to rise, and more brands are looking at live video shopping as a viable and effective option. As mentioned earlier, with Gen Z and millennials more likely to be attracted to livestreaming, social media platforms like Facebook Live, Instagram and e-commerce sites like Alibaba's Taobao and Amazon are ideal hosts.
Most brands are becoming more thoughtful and innovative and are integrating e-commerce with social media to eliminate the need for two separate apps.
2. Host
The great thing about live commerce is that anyone can host a shoppable live stream. But it doesn't mean everyone can be successful at it. KOLs, influencers and celebrities can help sell products as they are often seen as trustworthy and relatable.
Huang Wei, one of China's most successful livestream hosts, gains her viewers' trust by featuring products only she has tested while adoring casual clothing which is easily relatable to potential consumers.
3. Products
Unsurprisingly, apparel and fashion lead the way in the live commerce marketplace, accounting for 36% of livestream shopping events. But other products, like food and furniture, are also popular. What's more, there is a growing customer base that is looking at more expensive items such as houses and cars.
In fact, China's Livestream Queen, Viya, sold a rocket launch service for $5.6 million on Taobao.
4. Video Content
For most brands, it is understandable that the main objective is to sell products on a show. But the best way is often to build hype around the event by promising giveaways, utilizing raffles and offering certain products. The duration of these shows usually lasts 25 to 30 minutes.
Why do you need Livestream Shopping?
There are many reasons why livestream shopping platforms catapulted in popularity over the last few years, let us look at some listed below:
1. China's successful adoption at scale
McKinsey pegged China's Live Commerce market growth at a CAGR of 280% between 2017-2020, touching an estimated $171 billion in 2020. Moreover, the report anticipates Chinese live-commerce sales handling $423 billion by 2022.

 In a 2020 survey, around two-thirds of Chinese shoppers admitted to buying products through Livestream shopping! Some analysts suggest the market's total size might touch 600 billion US$ by the end of 2022 on the back of massive consumer demand.
2. Growing consumer preferences toward Livestreaming in the U.S.
Compared to China, the U.S. live-streaming shopping market is expected to touch $25 billion in 2023. While the market seems nascent compared to the 'China phenomenon,' few indicators suggest that livestreaming will also gain popularity in the coming years in the U.S.

For instance, in 2018 research, 63% of people aged between 18 and 34 watched live-streaming content regularly. Furthermore, according to an eMarketer study, around 50% of U.S. internet users watched a livestream event weekly. Approximately a quarter of them admitted to watching livestreams at least once daily.
These video marketing trends will only be further fuelled by the pandemic. If the various industry estimates are to be believed, livestream shopping will constitute roughly 10-20% (i.e., more than $150 billion) of the overall e-commerce sales in the U.S. by 2026.
3. Moving to the 'Metaverse'
With the imminent shift towards the metaverse – a confluence of the physical and digital world – soon, shoppers will be keen to explore the brands in the virtual space.

Considering the changing dynamics of consumer behavior and technology, brands that wish to stand out would be compelled to create a real-time video-based shopping experience, i.e., livestream shopping, to ensure fruitful customer engagement.
4. Leading brands have latched on to the livestreaming bandwagon
Brands have experienced tremendous success with live-streaming campaigns on their websites to offer a native experience to customers and loyalists. Brands such as Buzzfeed, Dunkin Donuts, Kohl's, Tommy Hilfiger, Samsung, etc., regularly leverage livestreaming on their website to connect with consumers.
For example, since the pandemic's beginning, Bloomingdale's has conducted several live stream events on its brand properties. Nordstrom, a leading retailer, has taken a step forward and launched its livestreaming channel. It has hosted founders and authorities from brands like Giorgio Armani, Tom Ford, and Charlotte Tilbury.
5. Feedback loop
With livestreaming, brands have solved the problem of generating high-quality feedback in real time. In the traditional e-commerce setup, feedback typically rolls in after the purchase process is completed, which is also not guaranteed to be conducted by most shoppers.


Brands and marketplaces thus struggle to calculate customer response towards products and services. However, with live streams, brands get to know a rich vein of data flow like how long consumers saw the stream, direct questions asked, reactions, purchase and click data – inputs that are much more comprehensive and generated in real-time.
6. Creating Phygital Experiences
Consumers crave the excitement of physical shopping, but health and safety concerns arising from the pandemic have made online shopping a necessity.

Brands are using retail storefronts and natural salespeople to execute highly impactful livestream shopping campaigns that recreate the in-store experience while allowing shoppers to shop safely from their homes. Still, consumers crave the experiential element, which livestream shopping can deliver effectively via live video.
Role of Livestream Shopping in Marketing?
Livestreaming has changed how retailers and marketers speak to online audiences, so seeing how they will likely benefit brands is great.
1. Instant Connection
Being a digital marketing tool, the ultimate goal of livestreaming is to attract potential customers to the brand's website. This is possible as livestreaming enables brands to have a deeper and more meaningful connection with their audience.
This is achieved with the involvement of the human element of visual body language like eye content, facial expression and so on. Plus, livestreams have chat boxes, so viewers and hosts can interact with each other.

2. More Affordable
Let's face it; a video endeavor has always been costly. It takes hiring a creative team, expensive video cameras, and booking slots on TV or slots on YouTube. But live commerce has changed things drastically.
Brands can now simply livestream their content via social media platforms Facebook Live, Instagram, LinkedIn Live or Periscope. Plus, with the rise of influencers, marketing to customers can happen directly.

3. Versatile Content Format
For today's tech-savvy customer that gets most of their information via the internet, don't expect a well-polished script but approachable and relatable content. This allows you to create vast content, from interviews to Q&As, from product demos to tutorials. Simply put, the only limitation to livestream marketing is your imagination.
Benefits of Livestream Shopping
1. Customer Engagement
You must be able to feature curated live shows with multi-host capabilities from speakers across locations. Your livestream must be interactive with polls, questions, emoji reactions, comments, etc.
2. Shoppable Short Video
You must slowly ease brands through their live commerce journey with short vertical videos that are engaging and swipeable. It must also have interactive features such as likes, reactions, saves, shares, etc.
3. Creative Studio
Minimize expenses and accelerate video commerce by offering a creative studio to create videos quickly, easily, cost-effectively, and at scale.
4. Distribution
Expand your brand's reach without having to invest too much through publisher networks and social multi-streams.
5. Customer Acquisition
Offer rich, immersive advertising, which your customers can shop directly from without visiting your website or app.
6. Conversions
Fundamentally, live commerce is a strategy that boosts your bottom line. For this to happen successfully, your platform must have:
1-click checkout

Native cart integration
Ability to distribute special offers and coupons
Integration with inventory management for dynamic product listing
7. Analytics Suite
To measure business outcomes, you need a comprehensive analytics suite that offers a KPI-driven dashboard monitoring metrics for each event. It must also integrate with your tech stacks, such as Google Analytics and Adobe Analytics.
8. First-party Data Ownership
Capture and own your first-party data to collect data and have the customer's permission to contact them with relevant communication later.
How do brands use livestreaming?
A considerable reason livestreaming works for brands is that it can reach their audience, and one of the most preferred ways of it happening is through social media marketing. And this became even more prominent during the pandemic, forcing people into lockdowns.
As outings got limited, customers started attending livestreams from the comfort of their homes. And herein is where brands found an opportunity to rethink how to market to consumers – live commerce.
The benefits of live commerce are there for anyone to see, but finding the right livestreaming strategy is vital. To make a lasting connection with your customer, you need to concentrate on your message and how you want to deliver it. Here are some ways brands are using livestreams:
Live interviews with industry professionals

Q&A sessions with experts

Live tutorials that highlight the brand

Live product unboxing 

A glimpse of what goes on behind the scenes

Host live challenges to increase audience participation

Live reviews

Livestreaming of an ongoing event 
Top Livestream Shopping Examples
1. The Fresh Market
They wanted to build a gourmet in-store experience online. The grocery company significantly boosted engagement among shoppers on its retail e-commerce website and social media platforms. This entire shoppable video strategy garnered nearly 13 million video engagements for The Fresh Market.
2. Wayfair
Wayfair is a home goods and furniture retailer that creates shoppable videos on YouTube and uses TrueView cards to encourage conversions. They engaged audiences through tutorials and DIY videos and saw 74% of viewers watching more than half of their ads.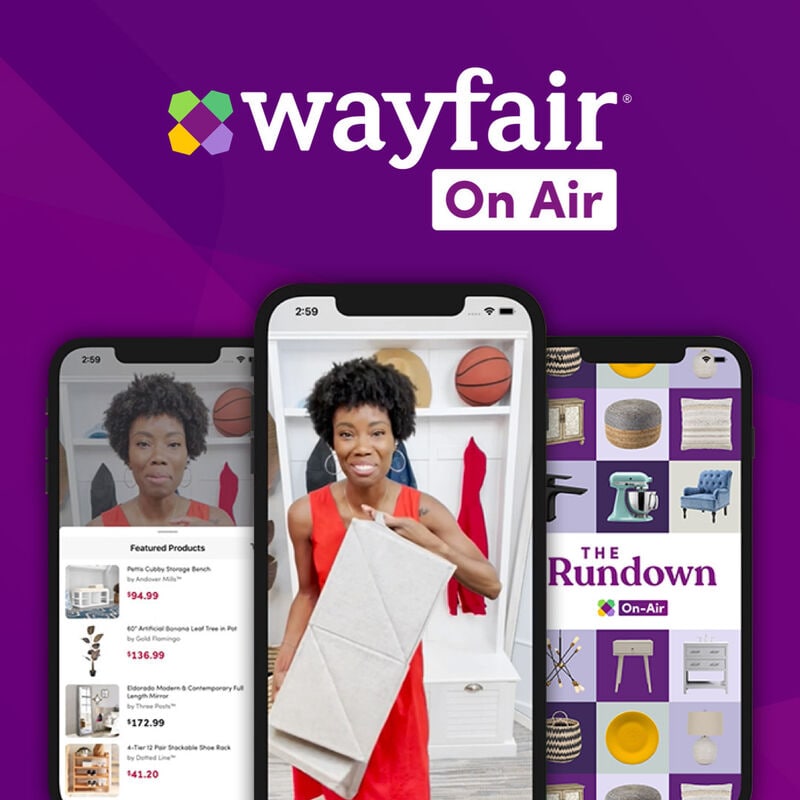 3. Kate Spade
They released a holiday video campaign in 2016 that was tailored to their customer's needs. This clothing and accessory brand included shoppable videos that allowed viewers to click on any product they liked and add it to the cart directly from the video itself. The customer can then click on their cart and purchase the product without interruption.
What are the concerns with livestream shopping?
When creating any content, it is crucial to attract your customers. But it is equally essential that your content doesn't harm or influence children and young people. Especially the latter, that is likely to be your current potential customer.
Offensive Comments:

It is difficult to monitor what everyone is watching, especially Gen Z and millennials, so ensure your content is not offensive. Viewers are likely to give feedback on the same channel, like negative or inappropriate comments, which can also be seen by other viewers.

At the Moment:

For its pluses of everything happening at the moment, livestreaming brings about a sense of unpredictability. Brands must connect with celebrities and influencers they trust and, more importantly, the customer.

Do Things you Wouldn't do Offline:

By and large, what you say and do online has to be correct. Any infractions can lead to a ton of negative publicity for you and the brand. If your brand doesn't titillate its audience offline, don't introduce that strategy online. Just be consistent, and don't be swayed by trends.

Digital Footprints:

 Those coming on your website trust you with not just delivering their product but are also expecting you to secure their information. Ensure your entire customer journey is well protected.
How Brands can begin their Livestreaming Commerce Journey
Brands starting in the live stream e-commerce will need a well-chalked-out approach while adapting to this new-age technology. Here is a step-by-step live shopping guide on how brands can build a successful live stream commerce strategy.
Beginner (Walk)
Start with intermittent live streams on your website and gauge the response.

Focus on a few products while

live streaming

(preferably not more than five).

Regularly track the performance of live streams with key performance indicators (KPIs) such as the number of views, best-selling products,

website conversion

rates, etc. 

Get started with micro-influencers that have a robust captive audience with high-value buy-in.
Keep costs down by using mobile devices.
Educate viewers about the dynamics of the new media format to get everyone on the same level initially
Focus on audience engagement to make sure there is fitment with your brand audience and consumers
Ensure that you are generating enough feedback from viewers to get pointers on improving your live campaigns
Intermediate (Jog)
Regularly schedule live streams on your website and experiment with the products, presentation style, and target viewers

Use real-time predictive analytics to track live stream performance and derive insights into content, products, formats, hosts, viewers, etc. 

Assign a team (or influencers) to create engaging content and manage the live stream channel

Drive target audience to relevant streams using automated performance-marketing campaigns

Create a sharp script for each live stream campaign to ensure content execution is on point and customers find regular value-add by tuning in
Highlight products early on in the live streams to get people familiar with the format and increase conversion possibilities
Work with a host of influencers and KOL's that have excellent brand fitment and can deliver engaging quality content to your audience
Promote live stream campaigns via social media blasts to make sure people tune in to the event regularly
Advanced (Sprint)
Adopt a holistic approach to broadcast live streams, focussing on product offerings catering to diverse audience segments on your website

Leverage technologies (such as A.I., AR/VR) to develop an immersive

live streaming

experience for the audience

Create a live stream content calendar with a theme-based program driving specific products and services

Onboard a team with a proven track record of running the live-commerce department independently

Focus on production quality and invest in a studio + equipment that complements content output and builds a devoted audience
Scale the frequency of live streams: Do at least 3-5 live stream campaigns every week to create a lasting impact
Leverage salespeople and evangelists who are well versed with your brand and product in your live streams more often
Livestream Shopping With Firework
Firework is the world's premier end-to-end live commerce platform for enterprises to incorporate short-form, shoppable videos and live streaming capabilities on their websites. In addition, it enhances customer engagement and loyalty through immersive video-powered experiences. With the Firework platform, you get:
Best-in-class live stream for brands

E-commerce and ad integrations

Low-latency high-quality streaming technology
Seamless e-commerce and website integrations

Dedicated customer success team

Business and technical consulting services

Creative production services for turnkey live streaming management (ideation to execution) 
Contact us to understand how we can help you build a world-class livestream shopping strategy.