The digital mode of shopping has been popular for quite some time. However, the global pandemic has resulted in online shopping becoming more of a necessity than mere convenience. As per Digital Commerce 360, eCommerce has grown by 30% from 2019 to 2020 and will continue to grow in the future. But the real gamechanger on the horizon is Live Stream Shopping which is set to power almost 20% of all E-Commerce by 2026. 
Introduction to Livestream Shopping
An emerging trend in online shopping is live commerce or live shopping. It refers to live stream videos to sell products directly to viewers. Live stream commerce is better than conventional online shopping since it overcomes the communication barriers between buyers and sellers, which leads to more sales. Moreover, brands can use live streaming to sell their products and educate, entertain, or engage the target audience. They can widen their audience base and build brand awareness and loyalty. Live streams can showcase product launches, brand stories, collaborations with influencers, Q&A sessions, flash sales, and live contests.
Learning from the China model
Currently, China is the global leader in live commerce, even ahead of American and European brands, because the Chinese digital platforms like Taobao are set up to function as social media and eCommerce platforms. Thus, they offer many services like messaging, live streaming, and online shopping on their platforms. Taobao alone reported $60 billion in revenue in 2020 on the back of massive demand for Livestream shopping. A McKinsey report states that sales through live commerce in China are expected to reach $423 billion by 2022, and cross a whopping $600 billion US by 2023. This super-app model has enabled China to pursue video shopping with the help of services already in place. 
In a recent Kantar study, Chinese consumers during Singles Day 2021 voted for live stream shopping as the second-largest channel of choice, consistent with the overall growth of live commerce in the region. During a pre-singles day opening event, China's top live streamer 'Lipstick King' Li Jiaqi sold $1.7 billion of goods in under 12-hours, an astounding feat that goes to show the incredible impact of the live commerce medium on conversions and engagement.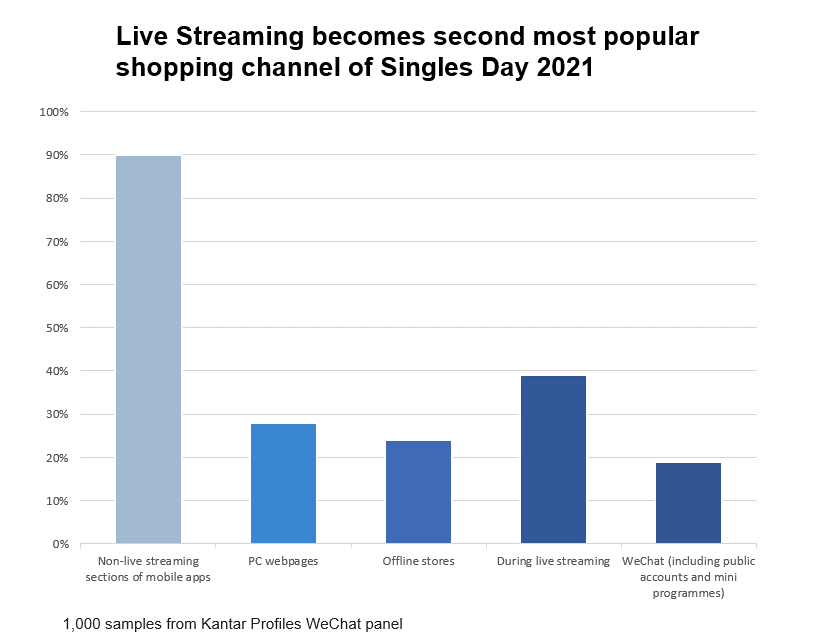 5 Point Checklist for Executing Successful Live Stream Events
If your brand has decided to take advantage of this popular live-streaming trend, here are some pointers to consider to make your live stream shopping campaign a success.
Live Stream Shopping on Your Website
Brands like H&M's Monki and L'Oreal's Urban Decay added a live stream feature to their websites in 2020, and many more brands are moving in the same direction. Fashion major Tommy Hilfiger has gone all-in with live stream shopping on their website, allowing consumers to shop together with celebrities like F1 world champion Lewis Hamilton. Even though a brand can stream on social media platforms or eCommerce sites, the best place to stream would be directly on its website, thus eliminating the need to rely on a third party. Brands can capitalize on solid traffic on their website and app by offering integrated, live stream shopping solutions instead of moving to social media platforms.
By moving the live commerce experience to their website, brands are not required to cede customer data to walled gardens and fully control the experience and functionality. This gives more control to the brands over inventory management and customer data, which will further help them serve the customers better through personalization and remarketing.
Choose The Right Influencer
The top brands in China have come to realize the impact of using sales associates who are well versed with the product portfolio and brand identity to run their live stream campaigns at scale. More than 90% of E-Commerce brands are using their own sales teams to run highly interactive live streams to replicate the in-store shopping feel and generate a phygital experience for consumers. 
While choosing an influencer for hosting your live stream, make sure that they are the right fit for your brand and their followers comprise your target audience. Roping in a big celebrity might be helpful for some brands, but it might not have the kind of impact that an organic influencer can have. Finding a micro-influencer relevant to your product is better. They might have a smaller following but highly engaged followers and are affordable. This close relationship ensures that more followers tune into the live stream and purchase. Firework-powered 1010 Shopping Festival featured participation from several brands sporting owners and employees as the live stream host, who were able to elevate the experience by bringing in more authenticity and value addition. 
Make The Live Stream Meaningful And Interactive
The main reason for the popularity of live streaming is its experiential and exciting nature. An attractive and meaningful video stream sustains the viewers' interest. It is not just a sales pitch but much more than that. It allows the brands to connect to their audience in an authentic way. Since live streams enable the viewers to ask questions from the host in real-time, the role of the host is crucial to make these streams interactive and impactful.
Powered by the Firework platform, Kraft Heinz executed a Halloween live stream campaign for their consumers with great success, selling out multiple products and delivering a delightful experience to live stream viewers. Viewers were able to interact with influencers and other stream viewers directly and engage in community-driven activities. 
Livestream As Frequently As Possible
To achieve high customer engagement and conversions, try to live stream daily. The regularity in live streaming helps maintain continuity with viewers and remain longer in their attention spans. One-off live streams are easily forgettable. Taobao Live, the world's most successful live streaming platform manages to run hundreds of live streams in a month to build continuity and maintain the immersive experience for consumers on their platform. This is the key differentiating factor for success for brands, as they can immediately build and scale a unique and highly engaging online shopping experience with high retention numbers. 
Gradually Scale-Up Live Streams & Incentivize Audiences
Live commerce is a relatively new mode of shopping, and its usage is only bound to increase in the future. Brands can start with web stories and shoppable videos to engage and transact with customers and introduce interactive videos on the E-Commerce website. Transform the experience for customers in phases and adopt a flexible strategy as they move ahead in their brand journey. However, it is a long-term game where the brands need to be patient to see the results and update their live commerce strategy.
For example, capitalize on holiday marketing campaigns to generate buzz around live stream shopping events, and start incorporating a dedicated live stream event every week to build up steam and educate your audience. Start off with limited live stream hosts to create a cadence around the content, and steadily move towards building a live-stream event calendar with an influencer base that caters to different categories and audiences to increase the scope and impact of your campaigns.
With special offers and discounts, your live stream campaigns will be able to attract a large section of consumers that are seeking value and looking for great deals. With a curated offer and product list, you will be able to optimize for discovery and conversions and create a much more engaging live stream campaign for your nascent live stream audience.
Summary
Live commerce is here to rule the retail world. With people glued to their mobile screens most of the time, live streaming has become easily accessible and is a fantastic tool for real-time engagement. Nestle's Drumstick Periscope campaign, which went viral, is an excellent example of the effectiveness of live commerce. Another example is MTV's live stream hosted by actress Vanessa Hudgens which dramatically increased MTV's viewership.
If you plan to venture into live commerce, find out how Firework is optimizing success for top global brands with live stream shopping.