While shopping went digital decades ago, the phenomenon we are witnessing today is eCommerce–in one of its most advanced forms. And here is a quick livestreaming checklist for your easy onboarding.
According to Digital Commerce 360, eCommerce increased by 30% between 2019 and 2020 and will continue to rise, with livestreaming to power almost 20% of all eCommerce by 2026. 
Livestream shopping is on top of the marketing wishlists for most brands thanks to its power to form real-time connections with the customer and create in-store experiences using technology. Here's a livestream checklist to help you get livestreaming right for your brand!
What Is Livestream Shopping?
Livestream shopping, also known as live shopping, is currently the most popular trend in eCommerce. It involves leveraging livestream videos to sell or market products directly to the viewers. 
Companies adopting livestream shopping are superior to traditional online buying eCommerce models because it breaks down the communication barriers between customers and brands, resulting in increased engagement and conversions.
Brands can use livestreaming to effectively promote their products and services, keeping their audience informed in a manner not possible through other eCommerce methods.
As a result, brands grow their audience while fostering customer loyalty and brand awareness. Product debuts, brand stories, influencer collaborations, Q&A sessions, flash discounts, and live competitions can all be leveraged through this form of video shopping.
In a recent Kantar study, Chinese consumers during Singles Day 2021 voted for livestream shopping as the second-largest channel of choice, consistent with the overall growth of live commerce in the region.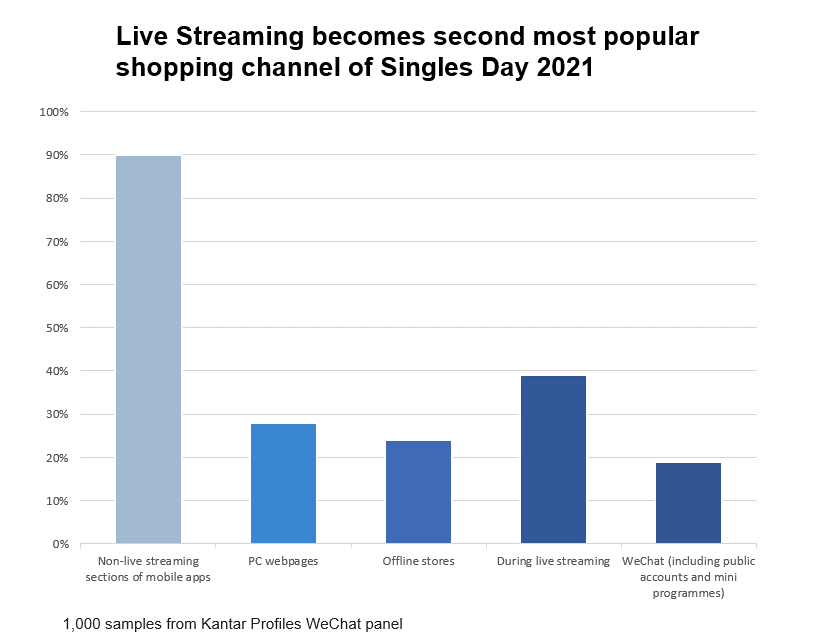 The Ultimate Livestream Checklist
China's leading live streamer, "Lipstick King" Li Jiaqi, sold $1.7 billion worth of goods in less than 12 hours at a pre-Singles Day opening event. This astonishing feat demonstrates the enormous impact of a live shopping campaign to engage and convert an audience.
However, if you want your brand to excel with this marketing tool, you must get it right. 

Source: How the "Lipstick King" leveraged live shopping
Setting up a livestream shopping campaign is not just about switching on the video and interacting with customers. A lot of preparation goes on behind the scenes for a successful live shopping event. Here we have rounded up all the important highlights in this ultimate livestream checklist.
(The list includes some basic factors crucial to a livestream but are often overlooked during the preparation.)
1. A Strong Internet Connection
The strength of the internet connection goes to the top of the livestream checklist because everything eventually depends on the streaming quality. Ensure a strong internet connection by choosing wired Ethernet over Wi-Fi. It is better to have Wi-Fi as a backup option.
The issue with using Wi-Fi is that there is a chance that someone else will be utilizing the same bandwidth when you decide to go live. However, you can ignore such issues if you have an Ethernet connection to a strong network.
No matter the connection type you pick, check your bandwidth. And upload speeds before going live to ensure they are adequate for broadcasting. Anything above 2 Mbps is generally acceptable, but you should pay attention to the upload speed to your preferred platform.
Also, don't forget to close apps running in the background that tend to affect bandwidth and streaming quality!
When organizing a live video shopping event, your equipment is your store – the arena that connects you to the customer. Hence, before starting, double-check your equipment setup. 
Devices
These include laptops, cameras or webcams, batteries, chargers, etc. You may also use a mobile device to livestream, in which case it is best to invest in a tripod for stability and better angles. You can use multiple cameras or have an extra camera handy as a backup. 
The perfect way to ensure that all your devices function smoothly is to restart them before livestreaming. When you restart a device, the random access memory (RAM) clears up, allowing your device to run at peak performance.
Setting Up the Audio
For livestreaming, quality sound is essential. Livestreams with the best video quality can be rendered ineffective if customers cannot hear what is being said. Test your microphone to check its sensitivity and eliminate as much background noise as possible.
You have options in this area, such as USB microphones, lapel microphones, condensers, etc. that will noticeably improve the quality of the audio.
Setting Up Lights
You must position the lights from or to the side to prevent being back-lit, which forms a shadow and makes you appear a bit surreptitious. Also, be cautious of overexposure. Most digital cameras, including webcams, will try to expose too much light on the subjects. If the space is dark, it will attempt to "light" it, which could result in overexposed video.
Despite the limitations of your camera, good lighting can still enhance the overall image. You also don't require a lot of expensive studio lighting – your livestream will look just as professional with a single additional source of light.
Checking the Data Storage
Ensure that your phone or laptop has sufficient storage to conduct the live shopping event and save it for repurposing later. If storage is an issue, resolve it using an external hard disk. If your device doesn't have the required storage, you are putting your livestream at risk from crashing midway.
3. Location And Background Are Crucial
You can go all in and be creative with your location or background as long as it does not affect the audio or video quality. Choose a place that will enable you to achieve the objectives of your livestream. Your setting should ideally be in a quiet area with adequate lighting.
Additionally, tidy up the filming site to eliminate any distractions. Remember that everything behind you will be visible to your audience, so keep your background as plain as possible. Alternatively, you might use a green screen to personalize the background further.
4. Have A Script Ready
A script for a livestream is very different from scripts for movies and plays. The livestream should flow as naturally as possible. However, it can often become awkward if you run out of things to talk about or cannot capture the audience's attention. Hence, having a script is always a wise option.
You don't even need to follow a script verbatim; simply have some talking points jotted down to help you keep the show running. It lets you keep the live video shopping event on track while still engaging the audience. 
5. Promotions Are Necessary
A movie might not have a great script or story, but a good trailer can make all the difference. It all boils down to how you sell it. After all, it is a key factor in firing up engagement. There are several ways of promoting a live shopping event:
Social Media
With 4.62 billion active social media users, you are likely to find a good chunk of your target audience on these platforms. From images to videos to influencer snippets and teasers, you can go all in on social media.
Online Communities
Platforms like Reddit and Discord are great ways to reach whole new communities interested in your brand or products. 
Emails and Newsletters
Use that email list wisely! Send out email alerts to your subscribers about your upcoming livestreams. Include a captivating video thumbnail and any trailers you've made to promote your livestream in the email.
6. Keep KPIs in Mind at all Times
The goal of an excellent live shopping campaign is to get the results you want. You can measure this success with Key Performance Indicators or KPIs. The evaluation and analysis of these indicators can help assess the outcome of your current campaign and assist you in identifying shortcomings and improving on them in the future.
Some of the primary KPIs to keep in mind at all times include:
Total Views
The number indicates how many times your video was viewed, during and after the livestream.
Unique Viewers
The actual number of individual users who saw your livestream. If your video receives many overall views but fewer unique views, it means the same set of viewers is watching it repeatedly. 
Session Duration
It takes into account the average duration a user spends watching the live shopping session. The session length is a good indicator of how long visitors stay engaged with your material or if they leave immediately.
Start-up Time
This is a measure of how long it took you to start the livestream. This is where you have the highest chance of losing out on your viewership numbers. 
Video Buffering
Buffering is the time it takes to (pre-)load the data required to play a video or begin a livestream. 
7. Choose the Right Platforms
If millennials or Gen Zs make up most of your audience, using LinkedIn as your streaming destination won't be very successful. The same is valid for drawing in a B2B audience using Instagram Live.
Your website should always be the topmost priority for live video shopping events. This gives you an opportunity to gather first-party data as well as secure organic page visits, among other benefits.

Brands like H&M's Monki and L'Oreal's Urban Decay added a live stream feature to their websites in 2020, and many more brands are moving in the same direction.
Fashion major Tommy Hilfiger has gone all-in with live stream shopping on their website, allowing consumers to shop together with celebrities like F1 world champion Lewis Hamilton. Even though a brand can stream on social media platforms or eCommerce sites, the best place to stream would be directly on its website, thus eliminating the need to rely on a third party.
Brands can capitalize on solid traffic on their website and app by offering integrated, livestream shopping solutions instead of moving to social media platforms.
By moving the live commerce experience to their website, brands are not required to cede customer data to walled gardens and fully control the experience and functionality. This gives more control to the brands over inventory management and customer data, which will further help them serve the customers better through personalization and remarketing.
Alongside livestreaming on the website, you can use social media simulations or follow a multichannel approach. For example, Firework garnered 16 million+ views for Heinz's Halloween livestream through a sharp distribution and multicast strategy.
Source: Heinz's multicast strategy for its Halloween livestream
8. Do A Trial Run
Even though all your devices function separately, there can be unexpected problems once you turn on everything at once. The most frequent issues include slow video, missing audio, or your broadcast abruptly ending. Sharing your test stream link with remote visitors allows them to spot any potential connection or equipment problems on their end.
9. Make Each Livestream An Interactive Experience
The hallmark of a live shopping event is the scope of interaction between the brand and its consumers. You must make a conscious effort to make consumers feel included.
Polls
Consumers will feel that their opinions are given importance and will love to share their ideas with the brand.
Live Q&As
These create an opportunity for brands to clarify queries that might prevent customers from making a purchase.
Comments
People can drop their opinions, ideas, questions, and other comments to deliver their thoughts to the brand. 
The main reason for the popularity of livestreaming is its experiential nature. An engaging and meaningful stream sustains the viewer's interest and elevates it to something beyond a mere sales pitch. It allows the brands to connect to their audience in an authentic way.
Since livestreams enable the viewers to ask questions from the host in real-time, the role of the host is crucial to make these streams interactive and impactful.
Powered by the Firework platform, Kraft Heinz executed a Halloween livestream campaign for their consumers with great success, selling out multiple products and delivering a delightful experience.
Viewers were able to interact with influencers and other livestream viewers directly, as well as engage in community-driven activities. 
10. Livestream As Much As You Can, As Often As You Can

To achieve high customer engagement and conversions, try to livestream daily. The regularity in livestreaming helps maintain brand recall that goes beyond the average attention span.
One-off livestreams are easily forgettable. Taobao Live, the world's most successful livestreaming platform manages to run hundreds of livestreams in a month to build continuity and maintain the immersive experience for consumers on their platform.
Source: A large part of Taobao's success comes from its regular livestreaming
This is the key differentiating factor for success, letting brands quickly build and scale a unique and highly engaging online shopping experience with high customer retention.
11. Pick The Right Hosts/Influencers
There are more than 50 million content creators in the world, in addition to the several celebrities that people already admire. However, choosing the right influencers or host for your live shopping event should not be a popularity contest. Instead, go for creators and influencers whose ideas and niches align with your brand and have the power to truly influence people. 
The top brands in China have come to realize the impact of using sales associates who are well versed with the product portfolio and brand identity to run their livestream campaigns at scale.
More than 90% of eCommerce brands are using their own sales teams to run highly interactive livestreams to replicate the in-store shopping feel and create a phygital experience for consumers. 
While choosing an influencer for hosting your livestream, make sure that they are the right fit for your brand and that their followers comprise your target audience. Roping in a big celebrity might be helpful for some brands, but it might not have the kind of impact that an organic influencer can have. Finding a micro-influencer relevant to your product would be better.
influencers might have a smaller following, but they are highly engaged as well as relevant. This close relationship ensures that more followers tune into the livestream and are more likely to make purchases.
Firework-powered 1010 Shopping Festival featured participation from several brands with founders and employees as the livestream host, who were able to elevate the experience by bringing in more authenticity and value addition. 
Back in 2015, Mashable livestreamed the inauguration of its new cooking show with Chef David Vos as the celebrity influencer. In 2021, Nordstrom invited content creators and influencers, like Sofia Tilbury, to host their livestream shopping sessions.
Imagine if the brands had picked the wrong names for these sessions; they definitely would not have been successful in their livestream efforts.
12. Incentivize Your Call to Action
People are always motivated to purchase when a good deal is presented before them. With the help of special offers and discounts, your livestream campaigns will be able to draw in a sizable segment of customers who are seeking value and looking for excellent deals.
You can optimize discovery and conversions with a well-curated offers and products list, and you can make a much more compelling live shopping campaign for your expanding audience. 
Other ways to incentivize the purchase include clickable 'add to cart' and 'purchase now' options during the livestream. If the customer is convinced, why give them the time to reconsider? 
13. Collect User-generated Content To Share
76% of customers stated that they made a purchase based on someone's recommendation. In addition, people have a stronger faith in user-generated content because of its source – it is not an advertisement. Hence, after the livestream, try to gather such content to share on your platforms and anchor your conversions and trust-building to this content format.
14. Create Curiosity About Future Livestreams
Don't kill the curious cat, but try to lure it to your next livestream! If people stick around till the end of the first livestream, they will likely be interested in the next one.
So try to drop a teaser or hint about upcoming live shopping events, or at least focus on creating a buzz with the products or influencers you have in store for the future. Creating this curiosity will give you a headstart for the next livestream and build customer loyalty.
15. Analyze Your Data
Analyzing your data after completing an event is the one of the most critical steps in your livestream checklist. With tools like Firework, brands not only have access to first-party data but also get a detailed performance analysis.
Apart from primary KPIs, you can keep track of your customer engagements, live durations, and click rates to understand purchase intent and participation. This data analysis will help you set goals for upcoming live shopping events.
Use this ultimate livestream checklist not once but every time to conduct a video shopping campaign. It will help you create the perfect shopping experience for your customers and leverage the power of livestreaming with active conversions. 
The Power of Video Commerce
Video commerce is a relatively new mode of shopping, and its usage is only bound to increase in the future. Brands can start with web stories and shoppable videos to engage and transact with customers and introduce interactive videos on the E-Commerce website.
Transform the experience for customers in phases and adopt a flexible strategy as they move ahead in their brand journey.
However, it is a long-term game where the brands need to be patient to see the results and update their live commerce strategy.
For example, capitalize on holiday marketing campaigns to generate buzz around livestream shopping events, and start incorporating a dedicated live stream event every week to build up steam and educate your audience.
Start off with limited livestream hosts to create a cadence around the content, and steadily move towards building a livestream event calendar with an influencer base that caters to different categories and audiences to increase the scope and impact of your campaigns.
With special offers and discounts, your livestream campaigns will be able to attract a large section of consumers that are seeking value and looking for great deals. With a curated offer and product list, you will be able to optimize for discovery and conversions and create a much more engaging live stream campaign for your nascent live stream audience.
Wrap Up
With people constantly glued to their mobiles, livestreaming to drive engagement is an unmissable opportunity for any brand. While livestreams are not a cakewalk to organize, following an exhaustive livestream checklist helps massively though.
Firework has worked with multiple brands gain traction with livestream shopping, including Heinz and American Girl. You can fire up your brand with a proper livestream studio and platform by your side. So book a demo with Firework and get started today!